11 week session of Dance for Parkinson's classes at the
Each Monday from March 14, 2011 through May 30, 2011

Mondays from 12:30 - 1:30 PM

Atlanta Ballet

at 1695 Marietta Blvd. NW, Atlanta, GA 30318

Due to spring break, there will be no class on April 4, 2011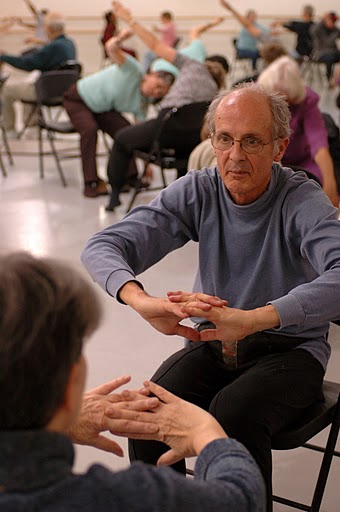 Members of the Brooklyn Parkinson Group at the Mark Morris
Dance Center. Photo by Katsuyoshi Tanaka
Classes are open to anyone with Parkinson's, families, friends and
caregivers. No dance experience is necessary. Students are welcome
to use walkers or wheelchairs.
Thanks to a special grant from the Mitchell Foundation, t
he class is
fre
e to participants, although donations are always welcome to keep
Dance for Parkinson's, originally pioneered in 2001 through a partnership
between the Brooklyn Parkinson Group and the Mark Morris Dance
Group, is a dance class for people with Parkinson's Disease, their
families and caregivers (http://danceforparkinsons.org).
Each class is designed to engage participants in an enjoyable
and supportive environment with trained dance professionals.
In addition to the benefits of physical activity, Dance for Parkinson's
focuses on the increased quality of life dance can bring to the mind,
body and soul.

Martin Thall, a member of the Brooklyn Parkinson Group,
and David Leventhal at the Mark Morris Dance Center.
Photo by Katsuyoshi Tanaka
Dance for Parkinson's incorporates many dance styles:
modern, ballet, jazz, tap, musical theater and modified
excerpts from Brooks & Company Dance's unique repertory.
Class begins with seated warm-ups that target correct posture,
full range-of-motion movements and the use of good breathing
to inform the movement. The class then progresses to the barre
followed by exercises in the center of the studio and then
moves across the floor. Rhythm creates an additional cue to
each exercise while the melodies encourage individual artistry
throughout the movements.
Members of the Brooklyn Parkinson Group at the Mark Morris Dance Center. Photo by Rosalie O''Connor.